---

---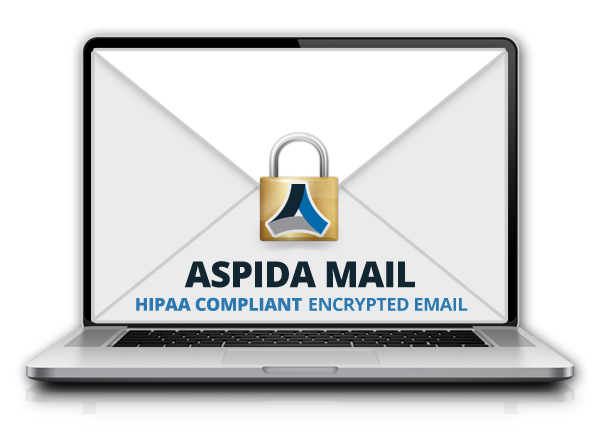 HIPAA Compliant Encrypted Email - The Easy Way
---
Aspida Mail was developed with simplicity in mind. We know it's important for you to be able to continue with business as usual. Aspida Mail's setup is seamless and works with any IMAP enabled device.
---
3 Months for $3 with Promo Code: ODA
---
HIPAA Compliant Email Encryption
(AES-256)
Spam & Malware Protection
with Real Time Scanning
Compatibility
Works with Mail Clients (Outlook, Apple Mail, Thunderbird, etc.) and Webmail Interface
Data Loss Prevention with Email Backup & Retention
(6 Years, No Size Limit)
Business Associate Agreement & Email Policy
for HIPAA Handbook
---
Programs currently compatible with Aspida mail:
---
Microsoft Outlook
Mozilla Thunderbird (free email client)
Google Apps for Business - Email (migration)
Windows Live Mail (free email client)
Dentrix
Open Dental
OrthoTrac / PracticeWorks
EagleSoft
BRS Dental
iPhone
Android
Windows Phone
One Solution, Two Options
---
---
Best for offices that want to create a new email address for sending and receiving encrypted email.
30GB of Storage
(per mailbox)
no contracts or hidden fees
cancel at any time
---
Best for offices that want to add email encryption to all existing or new email addresses on a custom domain.
30GB of Storage
(per mailbox)
no contracts or hidden fees
cancel at any time
(for one email address, $8 per additonal address)
---
Questions? Speak with our HIPAA Experts
---